**Disclaimer: I received a copy of this book from the publisher in exchange for an honest review. Any thoughts and opinions are my own.**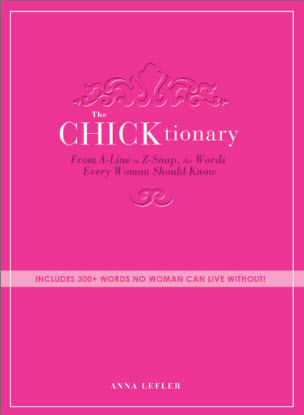 The CHICKtionary is a hilarious reference guide to all the words that women should know. And even if you think you know them all, you don't. The saying that you learn something new every day is true. I definitely learned something new today when I read the definitions in this book. I also highlighted quite a few to use in future books.
Anna Lefler is hilarious and I honestly wish that I could hear some of these words used in an actual conversation just to make sure I use them right. (Sometimes I'm not the hippest person around.)
A few of my favorites:
Basset Knees (noun)- "A heartbreaking condition in which one's knees exhibit multiple wrinkles and a general bagginess that serves to draw the observer's eye away from your cute outfit, smart shoes, and kicky handbag in a manner that is most damning to your mojo. Named for the layers of thick wrinkles that are the hallmark of the adorable basset breed, basset knees are, interestingly, the opposite of adorable. Stubborn in the extreme, basset knees are resistant to nutritional and physical fitness regimens of all kinds, often holding out to the be the very last features on your body to become toned. In fact, a West Virginia woman was once exhumed in order to settle a legal matter and investigators were shocked to find the coffin empty with the exception of a pair basset knees, which family members later identified as belonging to the woman in question."
Briet (noun) - "A diet undertaken by a woman specifically for the purpose of losing weight prior to her wedding. Created by combining the words 'bride' and 'diet' (not, unfortunately, 'brie' and the letter 't'), the very coining of this term underscores just how much pressure is on today's bride to show up looking like a million bucks at her nuptials (which hopefully carry a price tag somewhere south of that figure). Depending on how invested the bride is in the goal of perfecting her figure for her wedding day, she may begin her briet regimen anywhere from a week to twenty years prior to the blessed event."
Bunny Boiler (noun) - "This term came into popularity following the release of the film Fatal Attraction and refers to someone who is dangerously obsessive (the insinuation being that this is a bag thing). In the movie, Alex---played by Glen Close---takes extreme exception to being classified as a 'fling' by the Michael Douglas character named Dan. (Apparently, she thinks of herself more as girlfriend material.) One of the many ways in which she shows her acute dissatisfaction with the whole arrangement is to kill Dan's daughter's beloved pet bunny and set him to boil in a pot on the family stove. Sure, Alex comes off looking pretty bad there, but it's important to remember that she also tries to stab the guy, which we can all agree is definitely worse."
Cujo Syndrome (noun) -"Named for the rabid St. Bernard in the popular movie based on Stephen King's novel of the same name, the Cujo Syndrome described the chronic affliction of having lipstick smeared across one's teeth. This unfortunate condition---with its accompanying startling appearance---happens to all lipstick-wearing women at one time or another, but we all know someone for whom it seems to be a default setting. Why is this? Is it their brand of lipstick? Are they too aggressive in their application? Are they overly toothy? Under lippy? Do they not know the lipstick trick (see also: lipstick trick)? And what's the etiquette in this situation? Do we inform them that they appear to have just devoured a small animal or let them discover the gruesome truth for themselves when they glance in their rearview mirrors?"
Denim Rage (noun) - "Seething and/or outbursts of anger caused by wearing uncomfortably tight jeans. Statistics indicate that 94 percent of all denim rage-related incidents are caused by the so-called 'denim denial effect,' which occurs when a woman puts on her jeans in the morning, notes that they are uncomfortably tight, but decides to wear them anyway, convincing herself that they will become more comfortable as the day progresses even though she knows for a fact that the opposite trend will occur. Denim rage can strike at any time, but tends to be particularly severe after lunch. Denim rage is often mistaken for having a jackass for a boss, as both conditions provoke similar symptoms."
Fauxga (noun) - "A pernicious form of the centuries-old spiritual and physical practice of yoga that has been corrupted into a trendy, superficial workout fad. Particularly prevalent in 'hip' urban centers, fauxga practitioners can readily be recognized by their sleek yoga outfits with coordinating accessories, the 'Namaste' bumper stickers on their Range Rovers parked diagonally across two parking spaces, and the fact that they are the angriest-looking people barking into their iPhones while waiting in line at Starbucks."
There are so many other hilarious definitions in this book that it was hard to pick just a few. This is definitely a book to keep around if you're having trouble keeping up with the hippest lingo or you're writing the next chick-lit blockbuster. Or if you're a man and you're trying to improve your understand of women-speak.
Add it to your To-Be-Read List!
Buy it!
Anna Lefler is the author of THE CHICKTIONARY: FROM A-LINE TO Z-SNAP, THE WORDS EVERY WOMAN SHOULD KNOW (Adams Media, 2011). She is an award-winning writer and humorist whose work has appeared online at Salon, McSweeney's Internet Tendency, The Big Jewel, Funny Not Slutty, and My Pheme, among others, while her essays on modern motherhood have been nationally syndicated. She is the author of the comic novel ACT BUSY and recently completed her second, entitled DOING TIME IN THE GARDEN OF HAPPINESS.
Anna has performed standup comedy in Los Angeles clubs including the Hollywood Improv, the Comedy Store, Room 5 Lounge, and M Bar. She has presented humorous essays at Women Who Write in Los Angeles and has appeared in the "Listen to Your Mother" show in the Los Angeles cast of its national program. Anna's fiction has been presented onstage by WordTheatre Los Angeles.
Anna writes a popular humor blog called Life Just Keeps Getting Weirder, where she ponders what a Jedi smells like and wonders why more men don't wear urban sport kilts. She has twice been asked to speak on the topic of comedy-writing at BlogHer, the world's largest conference for women in social media.
She lives in Santa Monica, California with her husband, their son and daughter, and some judgmental dogs.
www.LifeJustKeepsGettingWeirder.blogs...