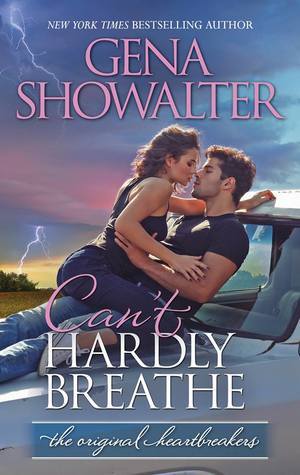 Can't Hardly Breathe was such a fun book for me! I've been in a bit of a reading slump so I decided to pick up this book. I'm a sucker for romance novels, even the cheesy ones. This book was far from cheesy. I loved every minute of it.
The book starts out sharing a glimpse into Dorothea (don't call her Dottie!) and Daniel's past. Beginning the story the way she did, I think Gena Showalter set the tone for the rest of the book very well. Dorothea is tough as nails but because of things in her past, she has convinced herself otherwise. Her self-esteem is lower than lower as we meet the present Dorothea. It's very easy to relate to and sympathize with her. Who hasn't had a moment of feeling like they weren't worthy?
One of my favorite things about this book is that Dorothea doesn't just think she's not the traditional standard of beautiful, she really isn't. Every guy in town isn't falling all over themselves for her attention. Well, not at first, anyway. She's beautiful to Daniel. He sees her in a way that the other characters in the book don't and while it thrills Dorothea, it scares her too. Throughout the book her confidence and self-worth grows as she grows as a person. She finally breaks out of the shell she's been living in and makes an effort to live in the real world, even when it's hard and scary.
The characters are fleshed out well. Most of the focus is on Dorothea and Daniel but you do get a glimpse into the personalities of the other characters and what makes them tick. It's a really good set up for the rest of the series. You learn just enough about them to keep you interested.
I highly recommend this book. I couldn't put it down until I was finished! Gena Showalter has been added to my favorite authors list and I cannot wait to read the rest of this series! (Especially Brock, he was one of my favorite characters!)